SPOTLIGHTS
411 Fact or Fiction Movies/TV 09.20.13: Week 400! Posted by Will a
Ben Piper on 09.20.2013

Walking Dead spin-off be too much of a good thing? Will prisoners be a major Oscar contender? Is an American Psycho series a good idea? 411's Trevor Snyder and Michael Weyer debate these topics and more!



Hello, and welcome to the 400th installment of Fact or Fiction Movies & TV. As always, I am your host of these festivities, Ben Piper. Having been in charge thereof since way back in week 67 has been an honor, and I would like to thank you all for your continuing patronage.

I would be remiss if I didn't acknowledge my fellow dedicated 411 staffers who have contributed to the column over these many weeks, months and years that I've been in charge. I most assuredly couldn't have lasted so long without their outstanding contributions and for that they have my overwhelming gratitude. To name them all here, both past and present would take far too long.

In order to celebrate this milestone, we're going to slightly supersize the proceedings by having eight subjects to discuss rather than the usual six. Here to help us out on this endeavor is Trevor Snyder and Michael Weyer. Let's see what they have to say...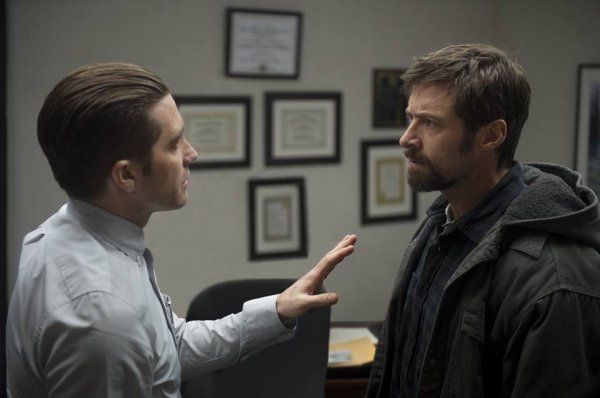 1. Prisoners will be a major Oscar contender.

Trevor Snyder: Fiction. I guess I understand the thinking behind this statement. Prisoners is enjoying strong early reviews, and features a pretty award-worthy cast, with Hugh Jackman, Jake Gyllenhaal, Paul Dano, Viola Davis, Melissa Leo and Terrence Howard. All of this seems to point to it being a better than average crime-thriller...but still just a crime thriller. Don't get me wrong, I'm looking forward to the film, but there's still nothing about it that really screams " major Oscar contender" to me. Maybe part of that is the release date, as it's being thrown out there into the wilds that are the September movie market. In a couple months, the real Oscar heavy-hitters will start coming our way, and I imagine Prisoners will have a hard time being remembered, especially by an Academy that doesn't often go crazy for darker genre fare - unless it's something like Silence of the Lambs. And, again, no offense to Prisoners, which I haven't seen...but I doubt it's Silence of the Lambs.

Michael Weyer: Fiction. I agree with Trevor, just doesn't seem a likely contender to me. I know, lots of great actors and a big push but it just screams out a filler September thriller to me, nothing really major or special. Sure, Jackman is getting buzz but I don't see him getting Oscar nomination for this when there's plenty of major contenders to come. It might do well at the box office but an Oscar favorite? Not seeing it at all.

Score: 1 for 1

2. Robin Williams starring alongside Sarah Michelle Gellar, coupled with the fact that it is created by David E. Kelly, gives CBS'The Crazy Ones enough star power incentive to make you tune in to check it out.

Trevor Snyder: Fiction. Nah, not really. First of all, Gellar's involvement doesn't really do anything for me. I am a big Buffy the Vampire Slayer fan, for sure, but oddly enough Buffy herself was always one of my least favorite characters on the show. That's not to say I think Gellar did a bad job - I actually think she was quite good. But at the same time, there was nothing about her performance that ever really made me hope to see more. I don't know, I guess that's kinda weird and hard to explain, but it's true. What is easier to explain is my total indifference for "funny" Robin Williams nowadays. I don't think I'm alone on this one. As great of a dramatic actor as I think Williams is, I find his tired comedic persona/routine to be more exhausting than entertaining nowadays, and even if its toned down somewhat on the series (as I'm sure it will be, since this is CBS we're talking about), it will probably still be just grating enough to turn me off. Add to a series of super annoying ads acting like this show is the greatest event in the history of not just television, but mankind in general, and I've already more or less checked out on this one.

Michael Weyer: Fact. I was a bit wary at first but early word is that this isn't too bad a show to check out. Williams still has a great presence and when he's on, can still be funny as hell and his character seems to play into that, the ad man trying to find his place. I actually liked Ringer and so Gellar should be able to balance him out with her own humor but also believable as a grown daughter handling a difficult father. It's only a half hour show so Williams' act wouldn't get too tired for you and I can easily see this fitting with CBS' other comedies but the star power of Williams is a bit selling point that should make this a good show to at least check out for the early episodes.

Score: 1 for 2

3. FX ordering anAmerican Psycho sequel TV series is an idea you can get behind.

Trevor Snyder: Fiction. No, no, NO. Oddly enough, the only positive I keep seeing anyone say about this is "well, it's gotta be better than that American Psycho 2 movie with Mila Kunis." That might be true, but let's not confuse that with an actual reason to do it. The problem is, just by existing the series will instantly have the same problem I had with that ill-advised sequel - namely, presenting Patrick Bateman as a kind of run-of-the-mill, traditional serial killer. Maybe not everyone will agree, but I always thought one of the more intriguing elements of both the original novel and the fantastic Mary Harron film was the fact that you could never really be quite sure Bateman's crimes were real, or just a product of his own twisted imagination. I've seen it read both ways, and I myself usually tend to think of it as somewhere in the middle (he may have indeed murdered a few of those victims for real, but there are other moments - like chasing a hooker through an apartment building with a chainsaw, which apparently no one hears - that seem more like his own fantasy. But even if you do assume everything in the film happened just as we saw it, there's still a level of complexity to the Bateman character, and the level of satire on display in general, that I just don't see happening in a weekly cable series...especially not one about an older Bateman "training" a new serial killer. That just sounds a tad too generic for my tastes, and I can already sense this will be more about the bloodshed than the commentary on materialism and shallow society. No thanks.

Michael Weyer: Fiction. Yes, NBC's Hannibal series turned out better than expected but that's the exception to a rule of how bad a TV sequel to a movie is. The key problem is that whoever lands in the lead will lack the great charisma Bale brought to the role and as Trevor points out, hard to imagine nailing the biting satire the original movie had that elevated the role beyond a simple serial killer. I usually have faith in FX but this looks like a bad move, basically just Dexter without the humor that made it special, missing the entire point of the movie for sensationalism so best to let this one die out.

Score: 2 for 3

4. Josh Gad is a poor choice to play Sam Kinison in a planned biopic of the controversial stand-up comedian.

Trevor Snyder: Fiction. I don't really know much about Josh Gad. I just checked his IMDb and realized I haven't seen anything he's done except his one episode of Bored to Death and The Rocker. And, really, it's not fair to judge anyone by the The Rocker (what, next do you want me to say Emma Stone shouldn't be getting any more work, either?). And since I'm not that familiar, I don't really feel like it would be fair to just throw him under the bus and say he's a poor choice for this. If he's the guy they want, I have to imagine he impressed with a screen-test or whatever, and since I don't know about the project in general, I also have to just trust these filmmakers know what they're doing. I'll give them the benefit of the doubt, and just assume that, until proven otherwise, he's the right man for the job.

Michael Weyer Fiction. I'm of the same boat as Trevor here as I really don't know this guy aside from "Book of Mormon" so can't say much about whether he could or couldn't do it. I do think casting an unknown is a good thing as a name actor would bring too much history of their own to the role of such an iconic comedian. So I think unfair to rip into Gad as not the guy when he hasn't even had a chance to prove himself yet, this might actually work out great as Kinison is deserving of a highlight of his amazing life and career.

Score: 3 for 4

Switch!!!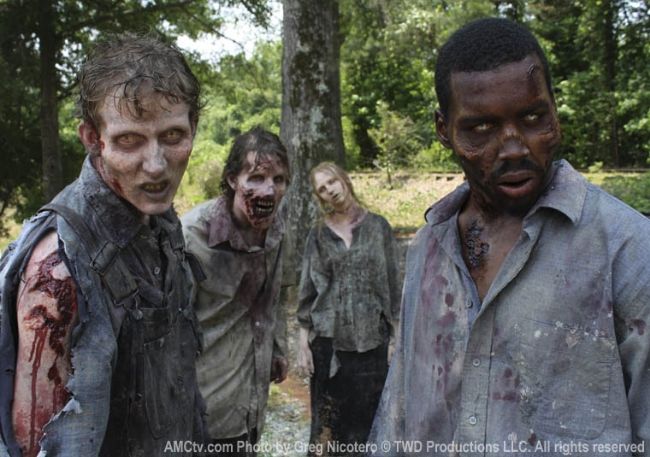 5. AWalking Dead spin-off companion series is too much of a good thing.

Michael Weyer: Fact. Look, I like Dead as much as anyone, maybe not love it as so many others do but still a good show. But even its die-hard fans have to admit that there are episodes where things tend to drag on with the zombie killing and the constant tension and inner turmoil and such. Do we really need two shows for that? No, just one series is more than enough to handle this idea. Sure, it might be interesting to see how, say, Europe is faring with the zombies but it'd probably be just the same formula taken elsewhere and water down the franchise. So, just stick to the one series for now, plenty of zombies to kill there.

Trevor Snyder: Fact. This seems like one of the most uncalled for television spin-offs in recent memory, if not ever. As Michael said, it's only real hope of seeming justified would be if it was drastically different from the Walking Dead show we already have, but with the sort of budget problems that have plagued the main series, I just can't see AMC springing for anything other than what will essentially be a carbon-copy of the original, just with different characters. I suppose this will give Robert Kirkman a chance to use some of the Walking Dead comic book story-lines that they haven't had the time to get to in the original show, but if any story-line on either show could just as easily be told on the other, with the other set of characters, then it will be pointless. A part of me can't help but wonder if AMC's end game here is just to have another version of Walking Dead ready to go as a bargaining tool for when the current cast's contracts start running out and they predictably begin demanding more money.

Score: 4 for 5

6. You'd be interested in an indirect sequel toThe Fifth Element.

Michael Weyer: Fiction. What does that mean, "indirect?" Now, I love this movie, I honestly do, so amazing with action and a truly original sci-fi universe. But it's been 13 years since that came out and it wasn't that huge a hit to begin with so it's hard to see that much of an audience to build on. Sure, Milla Jovovich could still kick ass but not sure where else the story could go as this always felt like a "one and done" to me, not a franchise starter. Sure, it'd be fun but I'm not sure if it's really worth going through rather than just letting the original stand alone.

Trevor Snyder: Fiction. I also love The Fifth Element. It's legitimately one of my favorite sci-fi movies. I've watched it too many times to count (it's one of those movies that I can't help but finish whenever I come across it while flipping channels), and it's one of the few films I just had to upgrade to blu-ray from DVD. That being said, I've never really felt any great desire to return to that universe. Sometimes it's nice to just leave well enough alone, and let a cool movie exist as is without risking a disappointing sequel. And this "indirect" sequel thing really gives me pause. If Luc Besson has an idea for another sci-fi movie, great. But if it's not a direct sequel anyway, then just make it as its own thing and don't try to tie it into The Fifth Element. That's just cheap and easy.

Score: 5 for 6

7. You plan on tuning in to see Neal Patrick Harris host The Emmy's this weekend.

Michael Weyer: Fact. I always tune into the Emmys anyway and seeing Harris host is always a delight. The guy just loves that job, going all out to entertain, good quirky humor and able to send up others without being insulting, a trick that's harder than it seems. However dull the awards themselves might go, we can count on Harris to liven things up well and make this a must-see series.

Trevor Snyder: Fiction. I could very well end up watching some of the Emmy's, I suppose...but I'm certainly not planning on it. The Emmy's, like most award shows, seem fairly irrelevant to me (even more so after they neglected to nominate Tatiana Maslany for Orphan Black, which is complete nonsense). So, unlike the Oscars, which at least I bet on and watch with friends, I really have little motivation to ever check them out. Now I'm sure Neil Patrick Harris will rock it as host. He always does, at any award show he does. And, yeah, I'm interested in seeing his monologue and any other skits he may do. But I'm also positive I'll just be able to watch all the highlights online the next day anyway. Saves me the trouble of sitting through the entire show and just getting frustrated.

Score: 5 for 7

8. Joseph Kosinski is a good choice to direct aTwilight Zone movie.

Michael Weyer: Fiction. First, I really can't say if anyone would be a really good choice for a Twilight Zone movie as that series had a style all its own (hell, Spielberg had trouble with it himself). But this is a guy with only three major movies to his credit, Tron Legacy and Oblivion the big ones, both big-budget affairs with flashy effects and such. To me, that's not Twilight Zone, that's a property that deserves a more low-budget feel with a director who knows how to do tension and scares right. At the very least, it needs an experienced hand, not a guy still new to the blockbusters in order to give us a film that not only thrills but makes us think as the best Zone eps always did.

Trevor Snyder: Fiction. First off, I agree with everything Michael said. But I'll add another reason onto the pile - no one director should be doing a Twilight Zone movie, anyway. Seriously, I don't quite understand the point of this film anymore. I thought it sounded like a cool idea when for a while there were rumors of it being an anthology film with different segments each directed by guys like Matt Reeves, Michael Bay and Christopher Nolan. But one single director doing what I assume is one single story? What's so Twilight Zone about that? Couldn't you just slap the Twilight Zone name on any supernatural/fantasy/thriller and call it a day if that's all you're interested in? A modern day, big budget anthology film sounds like a cool idea, but one average blockbuster director taking on just some script that they're calling The Twilight Zone doesn't really get me excited. Then again, this is modern day Hollywood we're talking about - I wouldn't be surprised if the movie Kosinski is making takes the title very literally, and is some blockbuster sci-fi action film about a scientist who is actually transported into the literal "twilight zone." Oh god...I was just joking about that at first, but now I've really got myself worried.

Final Score: 6 for 8

And there you go. Trevor and Michael agree more often than not. Thanks to them both for stopping by, and see you all again next week!
-BP


TWITTER
http://www.twitter.com/411s_Ben_Piper
http://www.twitter.com/411mania
http://www.twitter.com/411wrestling
http://www.twitter.com/411moviestv
http://www.twitter.com/411music
http://www.twitter.com/411games
http://www.twitter.com/411mma
Please enable JavaScript to view the
comments powered by Disqus.
comments powered by
Source:
411mania